6/6/11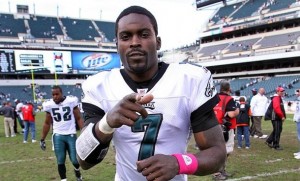 I decided to focus my headline on the title of Philadelphia Eagles Quarterback Michael Vick's autobiography rather than say something off color about how I have no intentions of reading it.
*brace yourself for negativity*
Okay, I love Michael Vick. I, too, grew up in Hampton Roads Virginia. I was lucky enough to see Vick play many times in high school. And I, just like other people from the Tidewater area, kept my eye on Vick from high school to college at Virginia Tech to the Atlanta Falcons to his stint in jail to his speaking turns on animal rights to his signing with the Eagles.
So it's not that I don't care…it's just that at 30 years old and having not won any championships at the collegiate level or in the National Football League (he doesn't even have a Heisman!), releasing a story that chronicles your life seems a bit premature to me. We've heard all about Vick's trials with his friends, with dogfighting, arrogance and redemption. It's hard for me to imagine this autobiography being highly engaging given Vick's mild mannered personality. And with Vick still being in full out apology mode, I can't see him doing much criticism of others-that kind of honesty sells!
From USA Today.
Vick, 30, hopes he can impart the lessons he learned confined inside a lonely prison cell to young people who might now be damaging their own lives. They are lessons that Vick regrets that he, at age 26, was too naive to absorb.

"My propensity for trying to lie my way out of trouble only made my consequences more severe," he wrote.
zzzzzzzzzzzzzzzz zzzzzzzzzzzzzzz *snores*
The title "Finally Free" is certainly appropriate, I can see him discussing how hard it was to let go of past negative influences his life in addition to what it felt like to regain his freedom after being incarcerated. But all in all, if I had to predict…I don't get the impression that Vick's autobiography will be candid or contextualized, I think it will be image-driven and a summary of things we already know.
If his story reads as I think it will, it probably would have been much BETTER for him to write a handbook for young men. I think a lot of boys would rather get a pep talk from Michael Vick than Hill Harper. And Harper's book "Letters To a Young Brother" sold pretty well. Young boys might actually read Vick's book rather than using the pages as toilet paper after their moms and aunties force it on them.
From my view, I'd rather read Vick's autobiography when he's not longer walking on egg shells and can come clean about the herpes/Ron Mexico rumors, the woman who sued him, his relationship with Dan Reeves and Jim Mora Jr., his thoughts on being betrayed by his friends and family and that kind of thing.
Is it rude to speculate that Vick's financial problems are the reason he is releasing an autobiography at 30 years old? What do you all think, will you read Vick's story?