7/4/11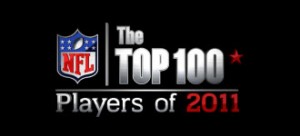 It took the NBA less than 24 hours to pull down all footage of current NBA players from NBA.com once their lockout began. Apparently, the NBA cannot profit from players during their lockout. The NFL obviously has no such rule because every other day there's a top 10 list of this or that not to mention this top 100 list that has had everyone, except me, talking for the past couple weeks. And more than that, NFL players are still appearing all across NFL network and NFL.com
First of all, I think the list is stupid. YES I SAID STUPID. Just like every other asine head-to-head conversation. It kills me that people never get tired of "comparing" and discussing who's best. Yeah I get that sports is all about competition but having the same debates over and over isn't for me. And that's generally what it all boils down to.
Personally, I'd rather jab myself in the eye than hear people compare Ed Reed to Troy Polamalu or Adrian Peterson to Chris Johnson again. And God forbid there's another Jerry Rice vs. Randy Moss debate. I even saw a Revis vs. Sanders debate. Count.me.out.  I guess I'm just no fun too sensitive to the variables.
Now you know why I haven't and will not be blogging about the list. Well, except for this post.
Anywayyyyyy, in the midst of ignoring this top 100 player list, I noticed that several players questioned whether players had actually voted in the list, or at least made a point of saying they didn't know anyone who did. Those players include Troy Polamalu (Safety, Pittsburgh Steelers), Kerry Rhodes (Safety, Arizona Cardinals), Jerraud Powers (Cornerback, Indianapolis Colts), Jay Feely (Kicker, Arizona Cardinals), Brent Grimes, (Cornerback, Atlanta Falcons), Jimmy Kennedy (Defensive Tackle, Minnesota Vikings), Chester Pitts (Offensive Lineman, Seattle Seahawks), Tom Crabtree (Tight End, Green Bay Packers), and Ryan Clark (Safety, Pittsburgh Steelers)-who went so far as to call the list a "sham."
Apparently, some players have been asking around and can't find any friends who were chosen to vote on the list. Now, of course that doesn't mean it didn't happen, it just called into question, for me, what the NFL means by "current players." It could have been 10 out of 1700. If so, they are being indirectly misleading, but would that surprise anyone?
Even though no one cares, I was curious and I contacted the NFL to find out how many players voted and how the voting was carried out, and I will let you know if they respond and if so what they say. In the meantime, if you have the answer to this question (maybe they mentioned it on NFL network and I missed it?) and can take time away from debating the list to let me know I'd appreciate it.
Overall, this top 100 list was a genius idea by the NFL. Kudos to them for knowing how to draw people in and keep them talking about football as the owners seem to continue to conspire to destroy the game.