6/27/11
Cam Newton Poses for GQ and Talks Black QB Stereotypes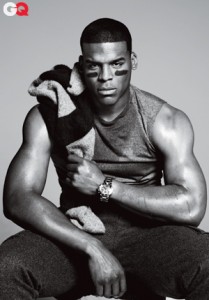 I tend to look at men under 25 years old as babies and kids I want to drop off at the mall and take for ice cream.  But even I must admit that my child-in-my-mind Carolina Panthers QB Cam Newton is all grown up in these GQ magazine photos. He such a handsome young man and whoever took these photos did an outstanding job.
You can view the whole shoot here.
In the article, Newton responds to a question about whether black QBs are still accused of being naturally athletic while white QBs get the benefit of being labeled smart. Newton says:
"Sir," he says with granite certainty, "it all comes down to whether a person wins or loses. I don't bring race into the game, 'cause then you're talking about excuses. I. Hate. Excuses. Excuses are a disease."
I don't totally agree, but I think that was the right response. He's new and unproven and is right to keep his comments sanitized and reflective of his competitive spirit. God willing there will be plenty of years for Newton to notice the difference in how black NFL QBs are treated and discussed and to respond as maturely as he did here.
Newton has really impressed me with how he's handled all the criticism. From the whole one-read controversy to the NCAA investigation to his dad's generally odd behavior, Newton has made very few missteps in his public comments. I'm rooting for this guy.