12/8/10
Victoria Secret's NFL Pink Collection is Tempting me! Fellas It's Almost Christmas. Hint Hint
Subscribe
to this blog and never miss an update. Join the
facebook page
for giveaways, photos and discussion!
Victoria Secret's pink collection is really tempting me to buy some stuff. Although I don't really see myself wearing a pair of Philadelphia Eagles thongs (or any thongs for that matter), the shirts and puffer vests are cute. Shoot, even the sweatpants are cute and I usually avoid sweatpants at all costs.
The shirt on the left is $40.00.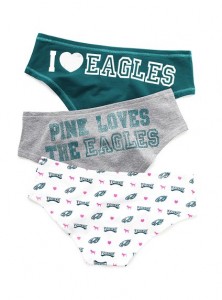 Although they don't appear to have boyshorts, which would be my preference, they do have these hipster panties on the right…I wouldn't be opposed to someone purchasing those for me.
It's almost Christmas, so it might be worth it for some of you fellas and lesbians to peruse the collection and pick out a thing or two for the girlie sports fan in your life.
Oh and btw VS and NFL, I'm a little perturbed that my Falcons aren't represented in the Pink Collection. We are the best team in the NFL right now. FYI!!!