6/24/11
Brian Urlacher Says Soldier Field is a Disaster and Other Quotes From This Week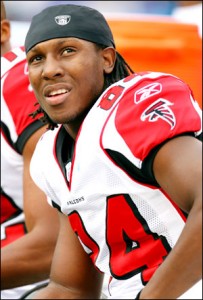 Brian Urlacher Says Soldier Field is a Disaster
It's no secret that the Chicago Bears' Soldier Field isin't in good shape. You can even see how bad it is when watching on television as players dive into play action pieces of the field fly everywhere. Every now and then broadcast cameras will linger on a hole. But it's still not often that you hear players talk about the field candidly.
"A disaster," Urlacher said. "We complain about it all the time. I don't know what's wrong with our field. Every week they've resodded it. They had a soccer game there, or they had nine high school games in two days. It's always something.
Ed Reed Says He will NOT have surgery on his neck.
"I don't want to be like these guys having neck surgery, then you got to go have another surgery just to continue to play this game," Reed told ESPN. "I love this game but I love myself more."
Always tough to see such a great and consistent player suffer through injury. Ed Reed missed 8 games and still led the league in interceptions upon return.
Roger Goodell and DeMaurice Smith continue to take the battle rhetoric all the way down. They even appeared together in some show of symbolism however belated. I mean at this point we're all burnt out on the lockout, and since it's almost July, it's kind of hard to get excited about rumors of a deal being done soon. But anyway, here's your obligatory lockout update.
"Someone asked me whether I was optimist," Smith said. "I think we're both optimistic when we have the right people in the room. We know we're talking about the right issues. And we're working hard to get it done. It's extremely complicated, it requires a lot of hard work by all the people, but we're going to keep working at it."
Falcons Wide Receiver Roddy White expressed a lot of confidence in the Falcons offense.
"He's real coachable and he's learning everyday," White said of Jones during an interview with NFL Network. "[Our offense is] going to be special. It's going to remind you of the Greatest Show on Turf. We've got a lot of explosive players and I see a lot more explosive plays coming out of our offense."
I wasn't a huge fan of the Falcons picking up Julio Jones when their defense is so sorely lacking. However, there is an argument to be made that Matt Ryan and Julio Jones could be one of the great QB/WR tandems of the future if he pans out the way the Falcons hope.
Still, they gave up a lot. And passed on Prince Amukamara the CB that went to the Giants already-stacked defense.