2/13/12
Randy Moss announces on ustream that he would like to return to the NFL
Subscribe
to this blog and never miss an update. Join the
facebook page
for giveaways, photos and discussion!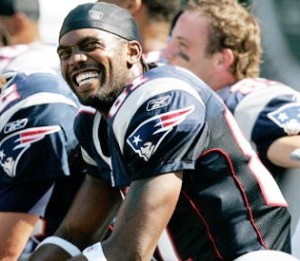 Today is Randy Moss' 35th birthday and as a special treat he got on Ustream for a little over an hour and answered questions live. I would tell you to go to his channel and watch it; however, it appears that he didn't record today's session.
During the course of the live conversation he said that he definitely wants to return to the NFL, and that he's praying that he finds a team. He cautioned everyone watching-all of whom he accused of not being real Moss fans and only watching to subsequently hype his return-that there's no guarantee that he will find a team-particularly, the right team to play for.
He also touched on his relationship with late Patriots owner Myra Kraft and said that when he signed with the Patriots she welcomed him "with open arms" and told him that if they didn't believe he could do great things they wouldn't have brought him there to begin with. On growing out his hair he said he wouldn't be rocking long hair again because he's "35 and it's time for a change."
I think that's mostly what I caught in between being mesmerized by the man's accent which he said no one ever compliments him on. As an accent buff I'm surprised!
When Moss first retired I wrote this piece about him complimenting him on his authentic eccentricity. Speaking of which, Terrell Owens has a similar thing going and also would like to return to the NFL but is so far undesired. I couldn't even begin to guess whether Moss will have better luck re-entering the NFL than Owens since-and I hate to say it-that eccentricity (to put it kindly) creates a valid concern about the likelihood they will interfere with team chemistry.
What do y'all think? Will he find a new team? What team?