5/24/11
From Iverson to Roy Jones Jr.: A Bad Year For My Childhood Heroes
Subscribe
to this blog and never miss an update. Join the
facebook page
for giveaways, photos and discussion!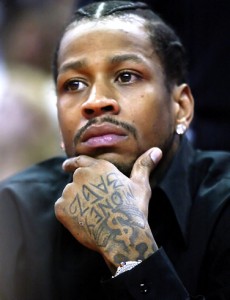 Back in  2008, I had a fabulous time on the beaches of San Juan Puerto Rico. It was during their Carnival, and, also the weekend of the fight between Tito Trinidad and Roy Jones Jr. my favorite and second favorite boxers of all time respectively. Rather than view the fight, I spent the night dancing my ass off at a reggaeton club drinking copious amounts of Gasolina.
I couldn't watch.
I had ignored Trinidad since the Winky Wright fight where he looked like an entirely different boxer-lapses in footwork, intentionally standing, not throwing as many punches, and worst of all, seeming to land them at half strength. This wasn't the Trinidad I knew. It wasn't the Trinidad I wanted to know.
I've stuck with Jones Jr. over the years through all his trials in different weight classes (and Trinidad too for that matter), but once that fight took place I was through with him and Trinidad and, quite frankly, over boxing as a sport.
Imagine my surprise that Jones Jr. is still fighting, and lost handily to some guy who's not worth looking up. I found this out the same day I found out that Macho Man Randy Savage had died of a heart attack crashing his car into a tree at the ripe old age of 58!
Ay yi yi.
Nothing says you were born in 1982 like watching your childhood heroes overstay their welcome in a sport-or worse having them die before their time.
Or maybe it's worse to have grown up idolizing Michael Jordan only to find out he's not very nice-being mild here-and dresses like Isiah Thomas gouged his eyes out after he kept bringing up old shit during his Hall of Fame speech. I like to pretend I became a Bulls fan for BJ Armstrong and John Paxon. A little revisionist history never hurt anyone, besides it's not exactly false.
But what should I do with my memories of Allen Iverson. No, not the memories of him telling police officers that he has plenty of cars if they take this one, or my memories of hip hop's second favorite butch lesbian Da Brat (Queen Latifah is the favorite) telling him to shut the eff up on camera. And no, I'm not talking about memories of him kicking his wife out the house naked or the Twitter DMs I get about his constant presence at Wet Willies in Atlanta or other bars where he reportedly watches basketball games all alone as if he's no one special to me.
I grew up in Hampton Roads Virginia. No one can tell me about the relevance and greatness of Allen Iverson. Cannot.do.it. His failures hit me like my own-I feel that connected to him. In 2002 I was this close *pinches fingers together* to getting a Cru Thik tattoo and corn rows on one side of my head.
I guess now I get what the previous generation felt when Arthur Ashe and Magic Johnson announced they were HIV positive, or how it feels for them to watch Muhammad Ali struggle with Parkinson's disease or any number of NFL players die of CTE-related illnesses before they're even old enough to get medicare.
Being an adult is a full circle of fuck shit. Why me lawd!