2/6/11
Cris Carter May Have Quite a Wait to Get Into the Hall of Fame; Also, Peter King's Take On HOF Votes Public
Subscribe
to this blog and never miss an update. Join the
facebook page
for giveaways, photos and discussion!
When the NFL issued the list of the newest round of Hall of Fame Inductees-a list that includes former TE Shannon Sharpe and former CB Deion Sanders-the discussion immediately turned to former WR Cris Carter. People wanted to know why Chris was snubbed for the 4th time.
Carter was originally eligible for the Pro Football Hall of Fame in 2008.
Someone tweeted Gregg Rosenthal of Pro Football talk to ask whether he was surprised that Carter didn't make it into the HOF this year. He said no, "not with this class." He also said Reed should go before Carter.
I'm not so sure that Reed should should go before Carter, but certainly that's a matter open to debate. What's not open to debate is that the "class" reason/excuse is going to continue to be frustrating-not just Carter but for any player who we know will make it into the HOF but appears to be being held out for some reason unknown to the public.
My response to Rosenthal's contention is that every class of HOFers is going to be tough and it's only going to get more so. I made this point on twitter without having specifics, but going off of the fact that the level of commitment, fitness, longevity of great players in the NFL has steadily risen with salaries and slow elimination of offseasons.
I'm glad that Sports Illustrated gave more specific information about upcoming classes of players.
…The 2011 class is damn strong, and future classes are going to be even more competitive.

Consider: The list of first-year eligible players in 2013 includes: O-guard Larry Allen, tackle Jonathan Ogden, defensive tackle Warren Sapp, defensive end Michael Strahan and kicker Morten Anderson.

The list in 2014 includes: Linebacker Derrick Brooks, receiver Marvin Harrison, running back Shaun Alexander, safety Rodney Harrison and coaches Tony Dungy, Mike Holmgren and John Gruden.
Not only are the classes strong, but the names are prominent, and the memories of these popular players and coaches' accomplishments are very strong. Since the NFL is more widely known now, and it's elevated the passion about the impact of some of these "known names."  I think the temptation to reward first year eligibles (like Sanders, Sharpe, and former RB Marshall Faulk who will also be inducted at this year's ceremonies in August) will increase.
That means style of play, importance to respective teams, players' contributions to the game and their position on a whole, among other intangibles, will increasingly be taken into consideration.
Carter is one of only 6 players in NFL history to have over 1000 career receptions. He also played in 8 straight Pro Bowls and was named to the 90s all-decade team. Once again, I realize competition is thick, but if Carter has to wait longer than another year I think it puts quite a disrespectful pock mark on his eventual induction. A pock mark it doesn't deserve.
At this point, it feels a little like Butch Carter will make it into the NFL's Hall of Fame before Cris.
A few people speculated that Carter may be experiencing an
Art Monk/Peter King situation
. I have no idea if that's true, in fact, I only found out that this was an issue because Alba at
Sporty Girlz
mentioned that King's bias was the reason Monk was snubbed for 8 years.
Anyway, King responded to the tweets by saying that he'd have no issue if the HOF made the votes public and if people think the votes should be public, they should write the Hall of Fame (He obviously didn't choose to voluntarily make his vote public).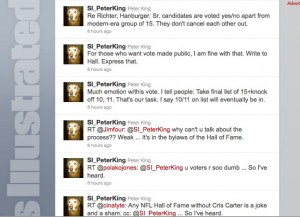 King also said that he couldn't discuss the voting process because it's against the rules stated in the bylaws. The Sports Illustrated article I link to in this post seemed to give quite a bit of detail though.