7/30/11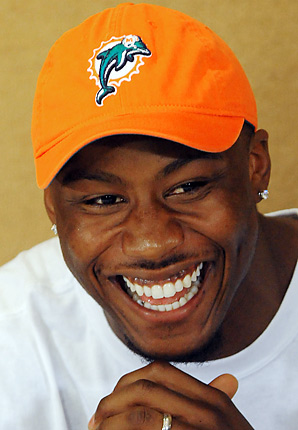 I don't know where to begin on this one. As most of you know, Brandon Marshalls wife was arrested for stabbing him a few months ago and the charges have since been dropped. Apparently, Marshall was inspired by all the talk about he and his wife to share a little more about what makes him tick. He decided to announce to the world that he has borderline personality disorder via the Sun-Sentinel.
Marshall has long struggled with so-called character issues off the field. Apparently, the NFL had ordered him into therapy, and after four years he has now been diagnosed with Borderline Personality Disorder.
During Marshall's treatment at McLean, he learned how to defuse the bomb inside of his head. Now with the tools and a new perspective he's returning to the real world, to the NFL, to a marriage he admittedly broke, and to a wife who feels vilified. He must use the skills he's learned to survive, if not thrive.

He has informed the Dolphins of his diagnosis and said he is revealing his story with the goal of creating more awareness of BPD and advocating for better treatment and medical coverage for a treatment program that cost him $60,000.
From NIH:
Borderline personality disorder is a condition in which a person makes impulsive actions, and has an unstable mood and chaotic relationships. Symptoms: Relationships with others are intense and unstable.
Worth noting, Borderline Personality Disorder is one of the personality disorders that escaped removal from the Fifth edition of the Diagnostic and Statistical Manual of Mental Disorders that is slated for release in 2013.
Based on Marshall's tweets and this article, he is trying to take responsibility for the issues he has caused in his marriage. That doesn't really change the face of what happened, though. Whenever there is a domestic abuse incident I assume either or both people in a couple has some sort of problem. Only difference is Marshall's condition has a name that we know.
Update: I thought this article in the NY Times was interesting. It's about a renowned expert on mental illness who struggled with it herself. She said that one of the reasons she committed to battling her own illness is so that she could help others who were suicidal, usually as a result of borderline personality disorder. BPD often causes a gap between who you are and who you want to be. Thought that was pretty deep.
Also, Brandon has released the trailer to his documentary "Borderline Beast." Most powerful line? Marshall says he's been trapped all his life, not by man or by beast, but by his own emotions.