6/27/11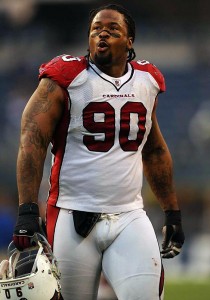 I will admit that one of my biggest pet peeves is reporting on what took place on twitter. I try not to do that because it makes me feel like a troll. But I thought this was interesting.
I followed Arizona Cardinals LB Darnell Dockett on twitter for a little while and this man can really drive you nuts with his commentary. But to his credit, he is rarely, if ever, boring. Today he didn't disappoint. Dockett was stopped driving his Escalade by two police officers who asked him if they could search his car. According to the tweets, when the policed requested the search, Dockett said some version of neaux, neaux, and HELL NEAUX.
I'm glad Dockett knows his rights. It's not uncommon for black men in fancy vehicles to be pulled over. Unlike a lot of young black men, Dockett is better positioned to take a stand without fear of recourse.
Read his string of tweets below.