12/12/11
We all saw it coming…
If you want more details about Todd Haley's situation you can't find a better source than Charles Robinson of Yahoo.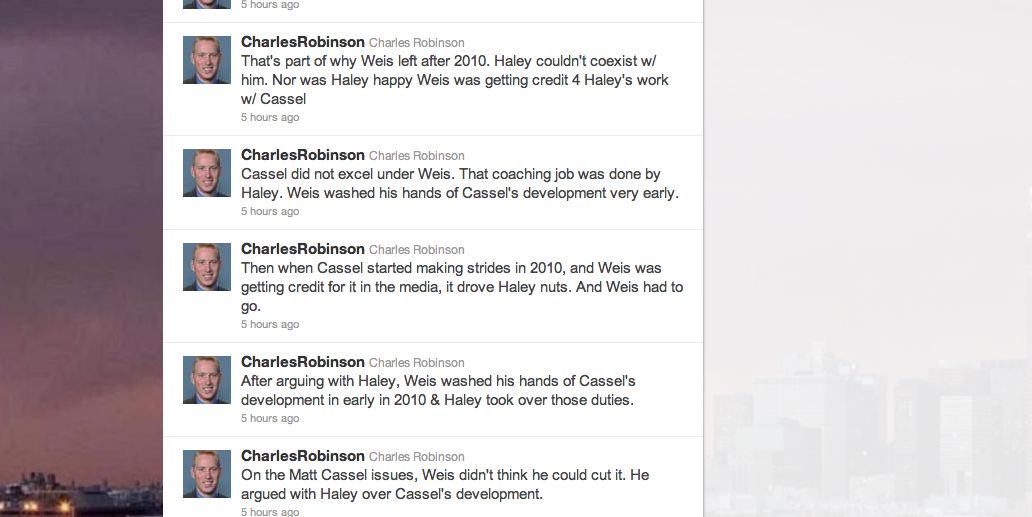 This is just a snippet. If you want all the juice, you have to read his entire timeline. There's A LOT there. But ultimately, it comes down to a major clash of egos AND the quarterback situation in Kansas. I think the consensus is that nobody really knows what to think about Cassel's potential. And apparently the Chiefs organization is no exception.
As for the Dolphins…there was a part of me that thought the Dolphins might keep Sparano…well at least until the end of the season.  Miami has really pulled it together the 2nd half of the season and you have to give Sparano some credit for that given the fact that he motivated a team that really has nothing to play for THIS season. Funny that up until yesterday when the Eagles beat the Dolphins both teams had the same record. Did the Eagles fire anyone yet?
I do think it's possible that both teams could draft a quarterback next year. The Dolphins definitely have to-although I have a feeling that Matt Moore has played well enough for some team to at least consider him as their starter. I just don't think the Dolphins will be willing to risk it when everyone will be looking at them to make a play for a QB. My guess is that Andrew Luck and this year's Heisman winner Robert Griffin (assuming Griffin declares) will be gone by the time Miami gets a turn though.
I'm interested to see what happens next with Sparano. He never looked completely incapable to me. Miami is short on talent at some key positions and plus the Dolphins are such a drag as an organization. I looked at Miami's roster from the past several years and I just don't know what to think.
You tell me…[keep in mind, the Dolphins were 11-5 Sparano's first season.
http://www.pro-football-reference.com/teams/mia/2008_roster.htm
http://www.pro-football-reference.com/teams/mia/2009_roster.htm
http://www.pro-football-reference.com/teams/mia/2010_roster.htm